PAGE 37
OPTIONAL
UPGRADES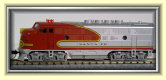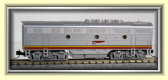 CLICK
ME


In addition to the various locomotive packages currently listed, I offer
a number of optional upgrade services for further customizing Kato
& some InterMountain N-Scale F units.
Converting your favorite F3-A or B / F7-A or B DC locomotive to DCC, or to
one of the DCC w/Sound options, (see pages 25, 26, & 27).

Adding sunny white, warm white, or brite white LED headlight (single)

Adding operating MARS LED light to dual headlight shells.

SUPER DETAILING (grab rails, ladders, wipers, MU hoses, snow plows)

Changing out couplers to Micro-Train, Kato, Unimate, etc.
NOTE: Several projects currently in development include offering the Digitrax
SDN144 series SOUNDFX decoder in a soon-to-be-released AZTEC machined
Kato PA-1 / PB-1 or E7 / E8 A or B chassis. This configuration will feature a .62
x .37 enclosed/baffled QSI/TPS speaker combination, for really superior
sound, ........ & only offered here at Z/Z CONVERSIONS
You may also trade in your KATO F series DC chassis for credit towards a purchase of
any of the converted chassis or complete locomotives listed in these web pages. Send
me a eMail @ bjbuzz@lctn.com indicating the KATO P/N & type of couplers of the unit
that you want to trade in, & I will respond with a $ credit value that you will receive toward
your planned purchase .... please, no junk trade-ins .... $ values contingent on condition